Hello and welcome to another edition of the bulls vs the bears. Today I have a news flash for you! Trading the the daily chart time frame is the route to forex prosperity The moment you mention daily charts, a lot of traders immediately hit the snooze button. They're like "It's too boring. You can't get any trades."
Newsflash! You couldnt be further from the truth. There are tons of trades in this time frame. You just need to be patient disciplined and have the mentality of a sharp shooter. You have much better chance of acquiring profits in the daily charts than the the lower frame charts. You see the lower time frames is full of nothing but noise, All you get is choppy patterns that are full of nothing but false alarms. I used to trade like that in the past and paid dearly with my trading account
Don't be in a hurry to make quick profits. Just enjoy the trading process and the profits will take care of themselves Even more important don't obsess over your trades when you incur losses. The best to get around this is to control your risk and not over-leveraging your trading acount.
You also need to be brave and patient if you want to succeed in holding your trades for long. Instead of reacting like a Rottweiler, act like a skilled patient trader with the mentality of a sharpshooter.
Now one excuse I keep hearing from traders for not trading the daily time frame is:
My Account Is Too Small to Trade The Daily Chart
New Flash! It's not about the size of your trading account. It's all about the position sizing. Just make sure your position size is not so big that it will end up blowing your account into smithereens. You need to disabuse your mind of thinking you are going to make quick and huge profits trading the 15 minute frame. It has nothing to do with get rih quic. You just need to get consistent profits. You are building qa business, not a casino roundtable.
Now some of you may be asking this question with a high amount of indifference
Why Should I Bother Trading The Daily Chart Time Frame?
First Off:
You Get More Clarity Trading Daily Charts
For starters you get more clarity trading the daily charts. Unlike the lower time frames, you dont get noise and false signals. Instead you a get a clear view of the daily charts free of noise and you are better able to hone your ability to read the daily charts both long term and short term.
Even more important trading the daily charts lends more accuracy and objectivity to your daily chart analysis. This objectivity becomes even more critical especially if you plan on venturing into the 1 hr and 4 hr time frames. However you'd be better off perfecting the daily time frame just to get a feel for the ebbs and flows of the market. And the only way to understand the ebbs and flows of the market is through the forex market's lingua franca price action trading. As the saying goes, listen to what the forex market is saying and you are likely to figure out which direction the market is heading to next.
Higher Risk:Reward Ratio
Unlike the lower time frames the daily charts has a higher risk reward ratio. Sure, the amount you risk per trade is an individual decision. But the daily charts allows you to risk more money with your trades. Now I'm not saying break the bank by risking more per trade. What I'm saying is when you trade only three times a month you have more freedom to risk more on your trade. When you trade like a sharpshooter, you enter fewer trades a month than if you enter several trades a month trading like a gambler.
Just keep your discipline and don't jump straight back into the market just because you lost a trade. When do you dive back into the market , the chances of you blowing up your account are quite massive.
Less Is More When Trading Daily Charts
Yes! Less is more when trading the daily charts. You need to understand and that the daily charts is all about quality of trades and not quantity of trades. The less you trade the better your chances of reaching the forex Promised Land. Two or three trades should should do it instead of 20-30 adrenalin – packed trades.
Think about how a tortoise sees life. It's very slow and measured. and it's never in a hurry. That's how you should approach trading the daily charts. Patience should be your slogan when trading the daily charts
Now that we've gotten the heavy lifting out of the way let's see what a typical daily chart looks like using the USDCAD pair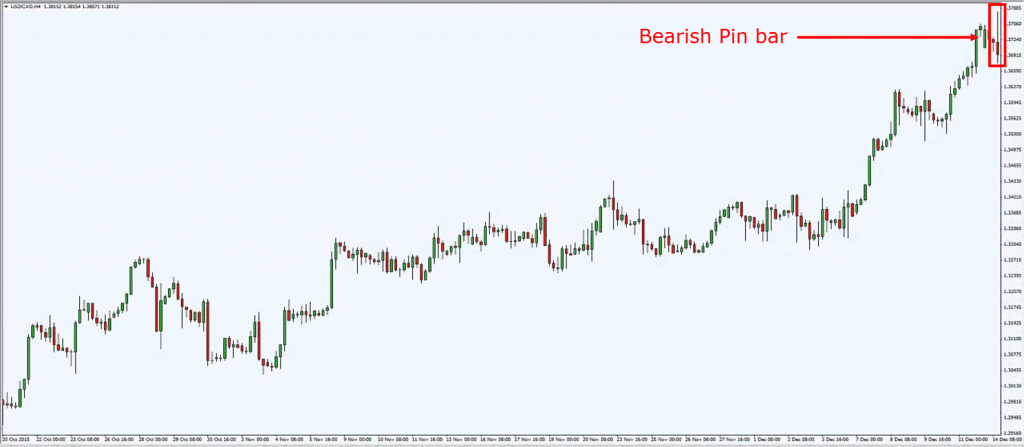 Ladies and gentlemen this is what the daily chart looks like . It starts from one corner of the chart to the other side. This pattern took several months to form. See how spotless it looks? It is free of nasty -looking sideway patterns which will suck you in to make trades that don't exist and blow up your trading account in the process.
See how well defined the trend looks? You could easily create two areas of support in this trend. The moral of the story here is just stay put. Put on your sharpshooter's hat and wait for the trend to form and then you make your entry. And you dont need to trade the daily pattern daily. You only need three trades a month to make your cash register to ring very loud. So just hang tight and let the market come to you.
That's a wrap for "Trading The Daily Chart Time Frame Is The Best Route To Forex Prosperity." If you want peace and happiness as a forex trader, the daily chart time frame is your best option. In fact a stress -free trading experience should be your overall objective when trading the daily chart. If you see your trading edge on the screen, you enter your trade. If not? you take a walk to clear your head.
So next time you trade dont wast your time scavenging for trades in the bushes of the lower frames. Because not only will you miss out on juicy trades in the daily chart frame, but you will be blowing your account in the process. Just take your hands off the market, study how the market operates and do absolutely nothing. Put in your market order and take a walk while the profits roll in.
Til next time take care.
Open Live Trading Account
If you're looking to open a live trading account Sign Up With EasyMarkets