Hello and welcome to another edition of the bulls vs the bears. If you are struggling wondering where to look for trading opportunities, I've got a simple solution:The answer is right there on the price charts.The anwer is right here on the charts. You don't need to look elsewhere.
The trick to this puzzle you need to pay attention to the market when it speaks. The Forex mn.arket market's lingua franca(language) is price action, Not only must you price action fluently, you must also apply what the market is telling you devoid emotion but with stone cold efficiency.
You should be gobbling up price charts on a daily basis. You must eat drink and sleep price charts. Price charts have a sequence to their behaviour. What happened in the past will help you make sense of what is happening now and where the market is turning to next. I guess the question burning everybody's mind is:
How Do I Hear What The Market Is Saying? And How Do I Apply It?
First off:
Market Conditions and Behavior
You first need to look at the most recent market conditions and behavior. The first thing you need to look out for is whether the market is trending or not. If the market is trending it should be good news because then you will make profits till the cows come home. However, if the market is not trending then the market is in consolidation(going sideways). It's absolutely crucial that you understand this aspect right way because that will determine the direction of your trade and your general trading plan. Now let's take a look at an illustration of a choppy market.
This is a classic illustration of a choppy pattern. See how price moves from choppy price action to a strong breakout. It then pulls back to the trading range midpoint before heading for the hills on the back of a strong uptrend. When you see such a setup it's time to run all the way to the bank.
Now let's take a look at another example.
Here is another example of a choppy market in action via the USDJPY pair. Unlike the the previous graphic, we dont see a breakout in this choppy market. Instead this consolidation is in freeze mode, the players are taking a breather trying to figure out what their next move is going to be.
If you thinking of putting in a order? Don't bother. If you do, you are going to set your trading account on fire. There are no price signals flashing in this range. So why would you want to risk causing a huge crater in your acccount? Just keep your fingers off the keyboard and move on.
The next price action message you need to look out for is
How Price Is Behaving Around Key Chart Levels
You absolutely have to look out for how price is behaving around key chart levels. This is probably the most important signal of all the signals that you have to look out for. Sometime price defers to key levels they approach. Other times it takes on the attitude of" I'll rip right through them." You'd be better off trading markets that defer to key levels because that tells you that that relation will continue uninterrupted.
Once you carve out these key levels watch out for high probability signals to form at these levels. However, if price does not care for these levels, avoid them like the plague. Let's look at an illustration
See how price defers to the key level at the uptrend. It looks almost perfect. Like I stated this pattern is the best place to trade. Make sure price gets along with the key levels it approaches. if not, avoid these patterns as if your life depended on it.
The next message you need to look out for is
False Breaks of Key Levels and Contrary Signals
You need to look out for false breaks of key levels and contrary signals. For those of you who have this misguided notion that when a trend stays permanently the same, you are sadly mistaken. You have to trade with a contrary mindset if you want to profit as a forex trader. Always have the mindset that the market is going to do a 360 on you. You need to look for signals that the market is about to head into the opposite direction. One such clue is the false break. Of course there is also the fakey pattern.
These two patterns are very popular among traders because they give strong hints as to what is going to happen next. Now let's look at an illustration using the USDCAD pair.
Notice the false break through the pin candle at the line of support right next to the huge bullish candle. Eventually price breaks out in the opposite direction- downwards -via the bears.
Now this is a situation which fools a l lot of newbie traders. They immediately think it's an upward trend only for a bearish pinbar to a wrench in the works. Just do not jump in the deep end immediately. Wait for things to unfold before you make your move. Or elst you could be staring at a huge crater in your account.
Failed Price Action Signals
Failed price signals are another message you should listen to when looking for price action signals. Now some of you are probably bristling like"Why would I want to be chasing after price action signals that have busted?" Well guess what, they are very strong signals in themselves.
Let drop a little hint. When you see a price action signal fail, that suggests that price may keep on moving in the same direction. Let's take a look at an illustration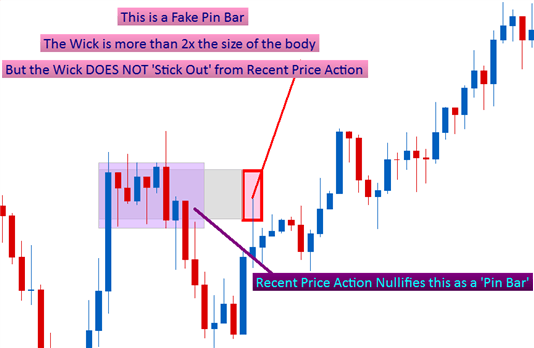 Take a close look at the failed price action signal in the form of the the fake bullish pin bar cased in a red square.The long wick sticking out suggests that the pattern is over. There is no need to make the process look like Einstein's Law or relativity.
And don't make the mistake of forcing a trade hoping against hope that the failed pin bar will make itself over. You do that and you will be laughing at the wrong side of your mouth.
And finally but not least
Event Areas and Fresh Profitable Price Signals
Event areas and fresh profitable price signals are two price action messages you must be on the look out for. When you have multiple price action signals flashing in the same area, You have an event area. When I sat fresh profitable price signals I mean price signals that have just formed. You need to look out for these messages as well as they could go a long way in influencing your profit margins. Let's look at an illustration using the EURUSD pair.
You see all the the pin bars circled along the key levels? They represent the profitable price action signals that I was talking about. If you understand what the market is trying to tell you you should know it's time to put in those market orders
That's s wrap for "The Answer Is Right There On The Price Charts…No Need To Look Elsewhere." What should be your trading approach? Two simple things – watch the price charts daily and make sense of the signals the charts are sending to you. In the words of a famous forex trader, You should"listen for it, map it, and interpret it."
However, it doesn't mean that you should be staring at your screen like a security guard scavenging for trades. Just pick specific times to check for your trading edge. And if your trading edge isnt present. You close for the day and try again tomorrow. Don't force a trade that doesnt exist. But once the trade pops on your screen, just pull the trigger like a sharp shooter and enter the trade
Til next time take care.
Open Live Trading Account
If you're looking to open a live trading account Sign Up With EasyMarkets