Hello and welcome to another edition of the bulls vs the bears. Today we are going to learn how to let forex trades run their course. We are going to learn how to let the market do the heavy lifting for you instead of you manually exiting the markets and hurting your chances of making a decent profit.
Do you know why forex traders struggle  to make a profit? No, it's not lack of knowledge nor trading skill, semi-empty trading accounts, terrible risk management, not negative mindset, It is rather them  shooting themselves in the foot. You see when you exit your account before your stop loss or take  profit hits, you are hurting your chances of  making a  solid profit. Instead of exiting the market prematurely how about letting the market hit your stop loss and your take profits?It will make a life a whole lot stress-free for you.
So  all we are going to do is to learn how to avoid shooting yourself in the foot  when trading on the market.
First of:
Never Close Your Trades Manually
One way of not trading like a deer caught in the headlights is NEVER close your trades manually. If you exit prematurely from the trade you are basically telling the whole. You see forex trading is all about winning to maximize  lost trades. Sure you are going to lose some trades, But it doesn't mean that you have to jump out with your tail caught between your legs.
Let me give you a nice illustration. Let's say you enter a trade on a demo account with the market chopping sideways for a week stuck in limbo. Next the market makes a  sharp turn stopping you out for a humongous loss. The difference here is that with a demo account you can afford to to take a loss that might  turn into a huge win. Next week this same trade comes your way  and hits your profit target by the end of the week. So instead of taking a humongous loss you take a  huge win simply by lying in wait like a sharp shooter.
I can hear somebody saying"What's your point?" Well my point is let the market do the heavy lifting for you instead of you exiting your trade as if your pants are on fire. You cant control time in the forex trade. It has its own schedule. You just have to wait in line while it prepares to launch. I know you want to make your profits right away, but the forex market  plays to its own drummer.  You might have to sit tight for three weeks when trading live. That's how trades set themselves up sometimes. Are you willing to wait that long? That's for you to find out.
Just remember this. If a trade doesn't smash your stop loss, then  your trade has more room to breath and you have the opportunity to rack up the profits.  It may take a breather(consolidate) for two weeks and then take off running again and hand you more profits.
Let's look at a few examples of  letting the market work for you as against emotionally exiting trades
This is a classic illustration of exiting a trade prematurely and leaving money on the table.  A trader takes of running  at the site of a diminishing  pin bar(as indicated by the small red arrow). However, see the huge upward trend that ensues after the emotional exit. That's too much money to leave on the table. If this trading account were human, I can only imagine the insults it would be firing the trader's way. It pays to just let the trade play out.
Next example please
Here we have an illustration of the popular set and forget strategy.  This strategy cures the habit of running with your tail between your legs the moment your brain screams "TROUBLE!" Based on your trading plan you make your entry set your sop loss and profit targets and take a walk outside the house. With this strategy, you can afford to  breath in fresh outside. By the time you get home , your profits should be waiting for you in your trading account.
However,  are three exceptions to this rule
When there is a sudden price reversal. This should be a clear sign to you to run for the  hills
The price chart keeps changing – Don't forget that price charts are not static and so thing change.  Pay attention to what the charts are telling you
When your price signal  misfires when the market reverses or closes below or above the price pattern.
Finally we get to look at situations where it's best to run for the hills.
First example please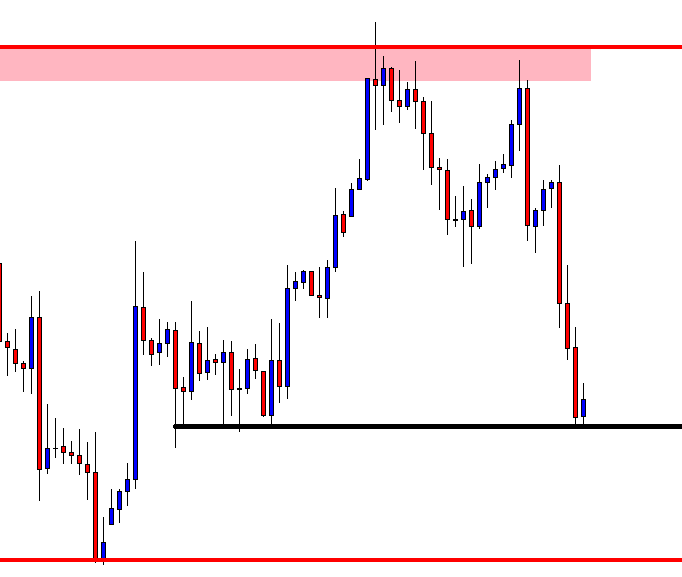 Right in front of us is an  4 hour chart. Here we have a reversal situation after price attacked the previous key level numerous times. Unfortunately the support line refuses to yield and when that happens, now will be a good time to head for the exit.
That's a wrap for "How To Let Forex Trades Run Their Course." Do your trades a huge favour by not jumping off the bus too soon.   Letting the trades run their course increases your chnces of racking up  decent profits.
No one is saying you wont experience losses – they will come. But  dont take volountary losses by  making premature exits. One way of solving this habit is to review your isk per trade so that you are not emotionally frazzled when price hits your stop loss. You need to decide how much you can afford to part with. And you if you are not sure about your stop loss placement look up How To Place A Stop Loss To A Tee. And if you are stuck on how to place a profit look up A Few Rules on How To Take Profits From Forex Trades
Til next time take care.
Open Live  Forex Trading Account 
If you're looking to open a live trading account  Sign Up With EasyMarkets