Hello and welcome to another edition of the bulls vs the bears.  A while back we did a two part series on Metarader 4 – Part I andPart II. This time we are going to dig into how to really master the master the metatrader platform. In case some of you don't know, Metatrader is the one and only platform for forex traders. Not only that metatrader is the  most popular trading platform in the industry.
If you are a rookie trader it will be in your best interests to read this post. However, if you are an experienced trader it wont hurt to refresh your memory by reading this post also. So basically we are going to learn how to use different trade entry order types  and how to  set up the perfect trade.
First off:
Market Execution and Pending Orders
There are two categories of order types in the forex trading business. They are market execution and pending orders. Let me break these two categories down gently starting with:
Market Execution
Market execution is an order which is executed at the  next available market price. So the moment you place your order, your order is filled at whatever price is available at the time you place your order.
Pending Order
A pending order is where you place an order that will be filled at a later time after price moves up or down to the price level where you've set the order at. Pending orders include limit orders and stop orders.  Let me break these two terms down so you understand.
Limit orders  are placed to buy below the market price or sell above the market price. Let's say the EURUSD pair is trading at 1.3200 and you want to sell it if it reaches 1.3250. You can fill a request for a sell limit order if prices touches 1.3250 it registers as a sell or 'short. So the limit sell  order is placed above the current price.
However, if you want to buy the EURUSD pair at 1.3050 and the market is trading at 1.3100, you places your limit buy order at 1.3050. If the price hits that level, your order will be registered as long. In other words, your market order is placed BELOW market price.
and finally:
Stop Entry Order
A stop entry order is placed above or below the current price. For example if you want to go(or trade) long , but you want to make your entry on a breakout of a resistance area, you place your buy stop just above the resistance area. And if price touches your buy stop order, your buy stop is activated.
However, it's the complete opposite when placing a sell stop order. You place you sell stop just below the resistance area. When price touches your sell stop order, your order gets activated.
Stop Loss Order
A stop loss order is paced for the purposes of preventing further losses when price moves beyond your specified price level. I can hear somebody asking"Why a stop loss order?" Well the stop loss allows you to control your risk and limit losses.  This order stays activated until you decided to tweak or cancel your stop loss order.
Now that we are done with the market orders, let touch on
Long vs Short
When you say you are going long, it basically means you want to buy the market. You want the market price to rise so that you sell back your trading position at a higher price.  I can hear somebody asking"Well, what does this mean?" Basically you will be buying the first currency and then selling the second. so if you buy the EURUSD pair and the euro gains strength relative to the dollar, you got yourself a profitable trade.
The scenario is slightly different when going short.  When you go short you want to sell you want the market to dip so you can buy back your trading position at a lower price than you traded it for. So you will buy the first currency in the pair and sell the second. If you sell the GBPUSD pair and the British pound is weak relative to the dollar, you stand to make a healthy profit.
Now that we've gotten the explanations out of the way, I guess the question on everybody's mind is:
How Do I Place market order in Metatrader?
Let's say we want to place a trade for the AUDUSD pair. We are looking to  buy at the most current price because we believe price is going high.
To execute the market order, first click  on the 'New Order' button. You should see it in the top going left. When you click it produces the pop up right in front of you.  Once the pop uup, pops on your screen you then select  'Market Execution' under 'Type.'  After selecting 'market execution, you then select  'Buy by Market'(labelled in pink' since you want to buy. If you  want to sell, you select 'Sell by Market.'(labelled in sky blue)
I need to sound off a few warnings though. First off, select the Volume of trade before selecting market execution. By that I mean the number of lots you are trading. Failure to do that and your request will be rejected outright.
Second, market orders are risky and dangerous than most orders. I can hear somebody"But you just asked us to select"Market Execution." Sure I did. However, The price you selected for your market order may not necessarily be the price prevailing on the market.
Next up is:
How do I place A Stop Order?
Basically you want to enter the market as  price moves up or down into your preferred price. If you enter price on a buy stop entry order you anticipate price to move higher. In that case you place your  buy stop above current price. If price move in your direction, it will fill your buy stop order.
Also make sure your stop order is bigger than the current spread your are trading. It cannot be within the spread. Let's say the price of EUR/USD  is 1,1240/22, it should be  outside of the current price spread. Most MT4 platforms have a distance of 20 pips. And if the market is closed, forget it. You can't place your order after office hours.
Let's take a look at an illustration of how a stop order is done

First you select  'New Order in order in order to execute the  stop order. Immediately the popup window for your entry  shows up on  your screen. Let's take a look at this popup screen in our next graphic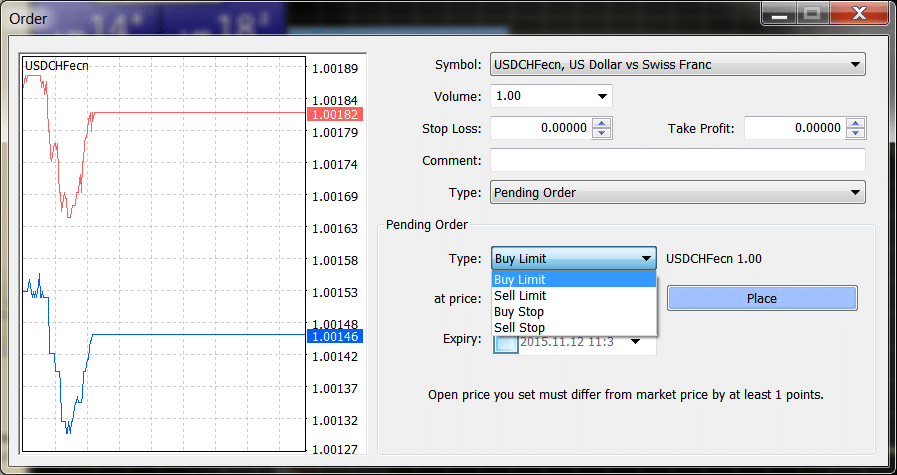 This is what the popup window looks like when you hit the 'New Order' button.  Make sure you set your order to 'Pending Order'. You then select 'Buy Stop' and then set the price for the trade you want to enter in. Just make sure its above the current price and outside the spread.
But what if you want to sell? Just select 'Sell Stop' and  place your order below the current market price and outside the spread.
Next up is:
How Do I Place A Limit Order?
Well you use  a limit order when you you plan on making a retracement entry into the market. Say you want to sell at resistance because of a strong downtrend, and you want to join that trend on   temporary strength(or pullback). You can then choose to place a limit order at resistance, so long as price is below that level. If price rotates to that level, your limit order gets filled.
Let's first take a look at sell limit order in action using the EURJPY pair
Here we place a sell limit order along the level of resistance.  Now why are we doing this? We are doing this because we anticipate a lower move if price got back up to the key level at the 130.152 level. If price moved up to that level, then your sell limit order will be filled, and you can take the profit without hassle.
Now let's see how to fill sell limit  order on MT4

Just like any other order you click 'New Order."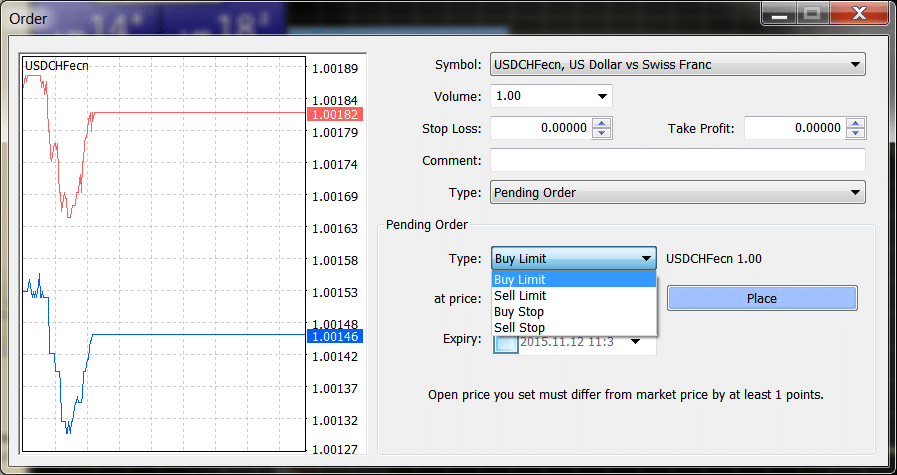 Right after you you click 'New Order, this pop up window shows up on  your screen. First you set the order 'Type to "Pending Order." Next you select 'Sell Limit' and then set our entry price. Just make sure the entry price is above the current price.
But what if you want to do a buy limit? You select 'Buy Limit', which is the next order after ;Sell Limit' on the menu. Just make sure the  price for the buy limit order is below the current price, in anticipation that the price will pull back to it hit your order, and climb  even higher up the charts.
And Finally:
How Do I Place Stop Losses and Profit Targets on MetaTrader 4?
Some of you may not like doing this but you really need to set stop losses. Failure to do that and you will end up creating a nuclear-sized crater in your trading account. In the same vein you al wan to set a take profit because the last thing you want is the market  U-turning on your trading position and you losing  all your hard-earned profits. So how do this?
First off:

Select ' New Order'
And then you fill in your stop loss and take profit orders. If you are selling, you click 'Sell'. And if you are buying you click 'Buy. So whenever you want to place a trade, Don't forget to fill your stop loss and take profit. Failure to do that and you will be digging your own grave.
Before you enter your trade, do me a favor. Make sure you have selected your currency and your trading volume before hitting the sell or buy buttons. We don't  want to be laughing at the wrong ends of our mouth do we?
That's a wrap for "How To Master The Metatrader Platform Placing Different Types of Trades."  I hope you've learnt that there are so many different trades you can place on metatrader 4. If you want to know how to set up Metatrader4, look up Metatrader4 Part I – How to Download Metatrader 4 and Set It Up For Price Action Trading
Til next time take care.
Open Live  Forex Trading Account 
If you're looking to open a live trading account  Sign Up With EasyMarkets