Hello and welcome to another edition of the bulls vs the bears. Today we'll look at three forex trading strategies you can take to the bank. Sometimes you sit there thing about your trading strategies and a question pops in your head saying"Which three trading strategies would you I bank my money on to get me to the promised land?
This is pretty much what we are going to do. We are going to look at three trading strategies that, if we trade regularly will bring us a ton of profits. Even more important, they are strategies you should be able to recognize like the speed of light without thinking twice about it. So onward:
First Off:
Market Entry
One prerequisite for success  as a forex trader is to get your market entry right. The price action pattern must br so obvious that you can't miss it. If you 're not sure of which price action pattern to choose, let me help you out.
You can get started with the  long-tailed pin bar pattern.  The long-tailed pin bar is a pin bar with a difference. Not to be confused with its sibling the pin bar, the long-tailed pin bar attracts a lot of attention with its conspicuously long tail. It looks so conspicuous that there is no way you can miss it. Now let's take a look at an example using the USDCAD pair
Now this is what the long-tailed pin bars look like up close and personal at the end of the bullish trend just before the bears take over. The long tail  sticks out from the surrounding pin bars. It looks so obvious and conspicuous that there is no way you can miss this one.
It has a small, or skinny body and a longer wick ,hence the nickname, long tailed-pin bar(The 'Small Body'label' says it all).  When on a bullish trend the long tail of the pin bar  sticks out from the top  like a tower. However if it were on a bearish trend,the long tail will stick out from the bottom.You'd think it was doing a head stand.
Let's look at another example of a long-tailed pin bar – this time a bullish long tail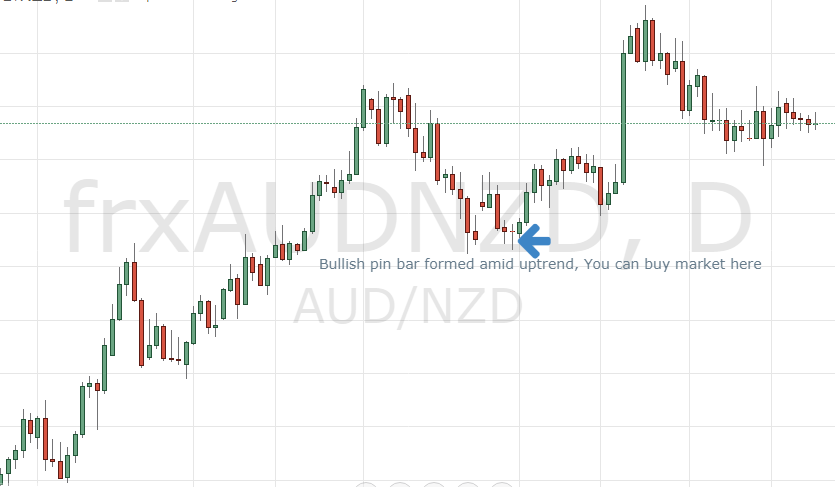 Here is a bullish long-tailed pin bar(as indicated by the blue arrow) formed at the bottom of the uptrend around the line of support.  The ,moment you see a long-tailed pin bar pop up on your screen just place your buy order at the tip of the tail. Do that and you should make yourself a decent profit.
Next let's take a look at pin bars in the pull back strategy.
The pin bar in the pull back strategy offers numerous opportunities to enter trades. Notice  the clear entry Three Forex Trading Strategies You Can Take To The Bank in the uptrend withing the parallel channel. Pay close attention to the pullback within the pin bars. Their long tails are very much in evidence  When that happens you  make your entry.
So if you're looking for a trading setup you can run with for the rest of your life  go with long -tailed pin bars and pin bars.
If you want to know more about long-tailed pin bars look up Long Tailed-Pin Bar – A Pin Bar With A Difference.
If you want to know more about pin bars  look up How to Prosper From Trading The Pin Bar
Next us is:
Money Management
Sure trade entries are important. But you'd be crazy to ignore the money management side of things. As a matter of money management is the most important aspect of forex trading.  Your future prosperity  rides on how well you manage your trades. Failure to take care of your trades could result in a huge crater in your account.
When  I talk about money management, I'm referring to  position sizing and risk reward.  You need to get these two component spot on if you want to thrive as a forex trader.
In case you have forgotten position is the number of lots you choose to trade. In other words position sizing is the size of the the position you choose to trade on the market. Now why is position sizing so crucial? Because this determines how much money you have chose to risk; the larger your position, the more money you are willing to risk. So keep note of that.
There is another reason why position sizing is  important. It's has to do with properly adjusting your 1R risk per trade. It is absolutely crucial that you get this aspect right.  Failure to do that and your account becomes history.
Let's take a look at at an illustration of position  sizing/risk reward in action using the EURUSD pair.
You see how the the risk reward ratio has been laid out at every key level. You have the stop loss placed at the first key level of support. As you can see, profit targets have been set with different ratio levels from R/R1:1 all the way up to R/R1:3.
The trick here is adjusting your risk per trade. You should give your trades enough oxygyen to withstand any sudden 360  U-turns by the market.
Now let's  look at how to plot the risk reward ratio for a downtrend  using the Fibonacci tool using the USDSD(Singapore Dollar) pair. The neat thing thing about this tool is that it helps you predict how the price will go, and then exits the trade before price retraces.

Here is how it's done:
Identify a trending market
Draw the Fibonacci extension tool from the swing high to swing low
Set your target profits at the 127, 138, or 162 extension (depending on how conservative or aggressive you are)
Use the same set of rules for the uptrend.
And Finally:
Daily Time Frames and High Probability
Probability the most profitable of the three trading strategies is daily time frames and high probability. Not only are you focus on trading the daily frames but you are looking  to trade high probability setups. With these setups, you are not looking trade 100 trades every week. But rather you are looking for a few profit blockbusters that can bring you huge profits in the long term.
Even more important, these setups help you to  keep your emotions in check. And you shed the habit of over-trading – The biggest killer of most traders  trading accounts.
Now let's take a look at a daily time frame chart in action
Now notice the pin bar  entries at the key level of support. You can enter this trade. Let it run for a few weeks, go on vacation and come back to see a huge profit nicely tucked in your trading account.
Daily trading saves you from staring at your screen all day  scavenging for trades. And it tames your massive impulses when you feel a strong urge to stare at your screen all day. Even more important you have a better chance at prosperity long term. It's a no-brainer.
That's a wrap for "Three Forex Trading Strategies You Can Take To The Bank."  The aforementioned strategies are the best ways to approach your trading day in day out. These strategies have proved to be reliable over the years and will serve you well for years to come.
Til next time take care.
Open Live  Forex Trading Account 
If you're looking to open a live trading account Sign Up With EasyMarkets