Hello and welcome to another edition of the Bulls vs the Bears. Today we are going to learn how to break-even with  forex trades  You know when a business is hemorrhaging so much money the only option left for them is to break even?It's  the same situation with forex trading. Sometimes you lose so much money in a trade that you struggle  to save your trade from going under. This is where the break-even strategy comes in. We are going to learn how to protect our forex trades with the break-even strategy.
So we are going to do what we always do. We'll define what break-even is and then we'll show a few illustrations of how the break-even strategy is implemented. So onward:
What's Break-even?
Well in business circles break-even simply means the point at which gains equals losses. The same principle also applies to forex trading.   With price action, break-even is  the level where the risk of the trade is recovered. When you're losing badly on a trade you tweak your  market order to recover the money you lost. You are not looking to make a profit. You are looking to recover your losses. So there is neither a winner/loser situation here.
You basically move your stop loss from your original stop loss position to your original trading  position once price moves in your trade's direction. So that if price does a U-turn and hits your stop loss, you won't get stopped out at your original stop . Instead you get stopped out at your new break-even stop.
And as I intimated earlier, you won't lose a cent of your money either. I can hear someone asking"Really? How so?" well, the new stop is set at at the same price you entered with. Thus, you don't incur any more losses. I guess the next question should be:
When Is The Right Time To Break-Even?
You move your break-even loss only if it makes logical sense to do that. Just be guided by the highs and lows of the  forex market. Price will eventually mark out  these points depending on the extento f the pressure brought to bear by the trend.
Make sure you see a definite high or low before  deciding to move your stop loss. Anything different, and you risk pulling your hair out over  a stomped out stop loss. Let's take a look at a graphical illustration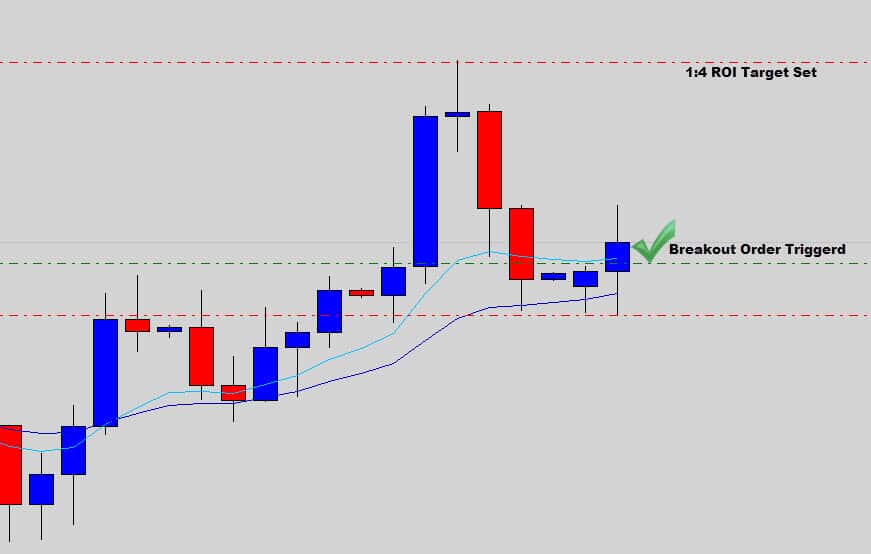 Here you see a bunch of recent natural highs nicely formed in a swing trading  situation. So naturally the breakout order has been triggered based on these natural highs as suggested by the green tick. Not to mention the fact that a nice risk/reward ratio of 1:4 has also been set. And we all know what that means: A health profit return on your trade.
So it does not make any sense at all to move your stop loss while racking up the profits. Instead let the market ride its natural course and see what transpires next.Two things will  occur:Either price will hit your intended profit target or it will hit your original stop loss – whichever comes first.  Let's look at another illustration: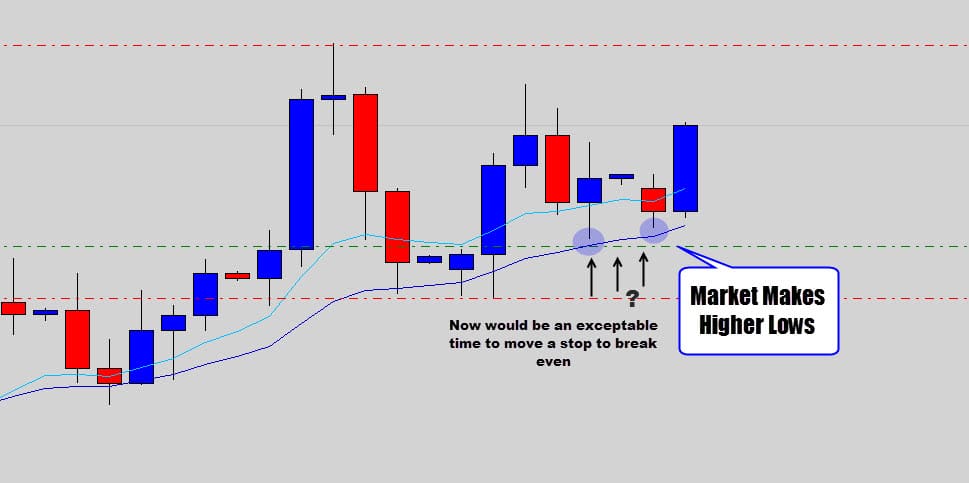 Now see how price has started nicely  carving out  higher lows? Now will be the perfect time to move your stop loss to break even.  Because if you don't and the market hits the most recent higher low, price might crash and annihilate your trade.
For more information on stop losses, look up  How To Place a Stop Loss To A Tee
That's a wrap for "How To Break-Even With Forex Trades ." Applying a breakeven trading strategy is very useful too to have. In fact it can come in handy when  the market all of a sudden U-turns against your trading position. Let the market tell you whether to  break-even or not. Don't be anxious to achieve a risk-free position, or  else  you may end up incurring a  nuclear-sized loss.
Til next time take care.
Open Live  Forex Trading Account 
If you're looking to open a live trading account  Sign Up With EasyMarkets